Our mission is to provide customers with professional landscape and snow management services, customized for their property, utilizing proven processes, innovative technology, and reliable equipment. A safe and seasoned staff, respected for their true value and potential, shall provide services in a manner that reflects a positive image for both our customers and company. We are a team. We solve problems for our customers. We train, learn, and retain knowledge. We provide the most reliable, personable, and comprehensive landscape and snow management in our market.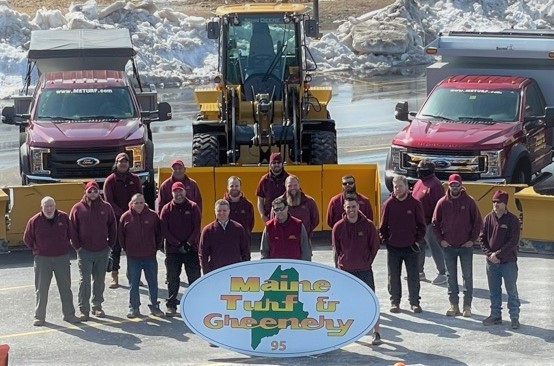 Steven J. Card, Owner/President
Steve started working on a property maintenance crew at age 14 and continued through high school.  After high school and some college, Steve worked several years as a real estate manager.  While working in real estate management he decided to open his own grounds maintenance company, to better service his clients.  Beginning in 1991 with a Pontiac Fiero and $900.00, Steve opened Maine Turf & Greenery, Inc. and began making sales calls on his real estate management clients as well as local businesses.  30 years later many of those original clients are still with the company and have been instrumental in our growth.  Steve has stayed steady, working to constantly improve the services and technologies offered by MTG.  He now primarily works on long-term future planning and helping his team achieve the vision of what the company should look like, how they should treat their clients and employees, and how they want to be viewed by the community.  Steve's primary goal is that Maine Turf & Greenery be a great place to work and offer a premium level of service to its clients.  Operating an outdoor weather-based business in Maine is not always a thing of perfection.  Steve cheers on the troops and clients through snowstorms, drought, and all that Mother Nature throws at us and keeps everyone on track and focused on what matters:  An end-goal of premium customer service done so by balancing what is best for the staff members in challenging times.
Andrew J. Fraser, Vice President
Andy began his green industry experience at age 15, as a 3rd generation cemetery groundskeeper in the western Maine foothills.  He pursued his desire to beautify the outdoors by obtaining a B.S. in Landscape Horticulture from the University of Maine, Orono; 1996.  Supportive work study included seasonal jobs in reforestation nursery operations with International Paper and garden center operations and landscape construction at Windswept Gardens.  Upon graduation, Andy focused on turf care, first at Lawnmark in Portland, and refined this in the Boston suburbs at the respective firm of Hartney Greymont, where he also gained valuable professional development and arboriculture experience.  At the request of a college professor, he interviewed and was selected as the head caretaker/manager of Atlantique, an ocean-front estate in Bar Harbor, Maine.  Here, he immediately became deeply involved in the full renovation and care of a 4.5 acre estate.  Additionally, he managed a collaborative relationship for interns of the University of Maine Horticulture program, to design/build gardens with direct inspiration of Beatrix Ferrand at the estate, learn formal gardening techniques at the Abby Aldrich Rockefeller Garden, pruning techniques at Asticou Gardens, and agronomy skills at Kebo Valley Club.  
With a move to southern Maine to begin a family, Andy worked independently as a landscape designer, and worked part-time for Maine Turf & Greenery each winter in snow operations.  In 2007, Andy joined MTG full-time and with his background, was able to quickly work his way up to overseeing the daily operations, allowing the owner to focus on long-term strategic planning and other business ventures.  In addition to operations management, Andy is also responsible for business development/relations and sales.  His emphasis is to provide quality service with integrity and accountability.  Andy also holds a Maine State Master Pesticide License, a University of Maryland IPM short course certificate, and is a certified Maine DEP erosion control contractor.

Chris Emmons, Operations Manager
Chris came to MTG in 2014 with 10 years of manufacturing and leadership experience. He helps oversee daily operations, customer relations, and employee retainment/recruitment.  He communicates directly with lead foreman and crew members to ensure they have a complete understanding of daily assignments and customer expectations.  His day begins before sunrise to ensure a seamless dispatch of crews, then he can be found on a job site, doing site inspections, planning in the office, or anywhere in-between.
Address
P.O. Box 6358
Scarborough, ME 04070-6358